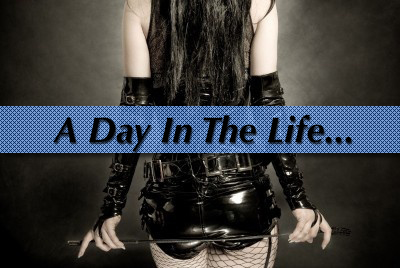 I'm sure you've wondered just what the personal life of a real hypnodomme is like.
Although it is true that many days are fairly uneventful and filled with a great deal of writing, emailing and such, some days are just special. I'm about to tell you about one of those days.
It all started with a phone call to my friend and fellow hypnodomme of many years, Mistress Carol. I called her to see if she would like to be the first guest for my new erotic hypnosis podcast site, Erotichypnotists.com (launching next Friday!) She said yes and we made a date.
Last Friday, I headed out Mistress Carol's house to record. We decided hosting a chat on Inraptured afterward would be a bonus to us hanging out. Knowing that her slave would be present and we were going to be recording from her dungeon, I decided it would be best to dress for the occasion. I decided on a blue corset, black leather pants, and black patent heels that usually make me the tallest person in the room.  
Fast forward to my arrival…I was greeted by Mistress Carol and slave P at the door and made immediately comfortable in the dungeon. I'm pretty much sworn to secrecy on the details of the dungeon, but let me say it is definitely the stuff BDSM dreams are made of. I have the honor of also being the only other female to ever enter its walls. Like any good friends, we began to gab about everyday things while looking at some of the newest additions to the dungeon since the last time I was there. Slave P was already tending to our every need. He is one hell of a houseboy and Carol has him trained to near perfection. I liken him to an English butler. He knows how to stay invisible and silent while making sure we want for nothing. The full champagne glass almost appeared out of nowhere at my side.
We setup our recording equipment and began to record. I'm new to podcasting and interviewing so I wasn't sure what to expect and frankly, neither was Carol. We recorded well over an hour of material, but I'm pretty sure only about half of it will be usable as we just couldn't stop laughing and chatting. We have such an easy friendship that we probably could have made a podcast 3 hours long, but I suspect nobody would have wanted to listen to us that long. We had so much fun that often we forgot the microphone was on.
After recording, we had about an hour until our scheduled voice chat. At some point, she dismissed slave P to ask me a question and a favor. I truly had no idea what to expect by Carol's serious expression. She asked how I would feel about hypnotizing slave P for the fun of it and implanting some new triggers for us to play with. I really didn't have to consider the request very long. The truth is that I am a hypnofetishist myself and rarely turn down the opportunity to melt a mind in person. We went on to finish hatching our wicked plan and time really got away from us. P knocked on the door to remind us that our chat was in 5 minutes.
We raced to get the computers setup in the dungeon as that is where we wanted to host chat from. Everything that could go wrong was going wrong and honestly, we were too tipsy to be that effective in handling the situation. Carol could not log into chat from one computer. The computer I was at would not recognize our microphone. We said "Can you hear me now?" about 100 times before we gave up. Slave P booted up a laptop and rushed it to us so we could be on mic. We eventually got everything working and continued on to host one of the most epic chatroom events on Inraptured. We were joined by 4 other hypnodommes during the course of the night. Slave P kept our glasses full and truth be told, we were drunk. It was amazing to see so many hypnodommes in one chatroom, all playing off of one another and genuinely having a great time. There were no commercial motives, no catty competition….just hypnotic ladies spending the evening with erotic hypnosis lovers and fans.  I can only begin to imagine what may have transpired if all of us had been in an actual room together.
After chat, we moved onto dinner. Slave P made us a delicious feast of veal and fresh vegetables and a perfect wine choice. After her last bite, Carol dropped her napkin on the table and addressed Slave P. "Slave, Mistress Tessa and I have decided that you will be hypnotized by her tonight." At first, I could not gauge his reaction. Was it fear or excitement? Maybe both? I'll have to keep the rest of the details private, but I will leave you with this for your imagination. I tranced Slave P into oblivion while Mistress Carol watched. She and I exchanged knowing glances with each other as he descended into hypnotic bliss. Our plan was coming along perfectly and the evening was everything it was meant to be. I'll let your mind fill in the details from here….
This is not like every day of my life as a hypnodomme, but it definitely ranks as one of the best. Do tell me, if you were Slave P, what would you hope would have happened?