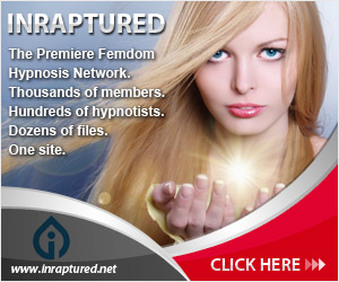 I know there are a great deal of people that frequent my blog that are already members of Inraptured.net, but I really want to extend a personal invitation to those that are not to join!
For those that are not familiar with the site, it is a site dedicated to femdom hypnosis, fetishes, and kinks! I have been a member since 2009 and consider it my second home on the web. I know it can be difficult to share and discuss this fetish (or any fetish!) with those around you, but at Inraptured we welcome it! I am an administrator there, so if you need help learning the ropes, just drop me a line and I am happy to help!
There are many active hypnotists there, established and new, to interact with and get to know. Explore the marketplace for hot new files and some outstanding free hypnosis sessions by many notable hypnodommes. Hop in chat and make some friends. You might even get lucky enough to stumble in for a room trance. Share your kinks in our forums! Start a conversation!
This week, May 14th 6PM PST, I am holding a brainstorming contest in the chatroom.
Although it is not necessary, please RSVP if you are coming so I know to expect you! I'm giving away a gift certificate to my store for the best idea.
Come join me on Inraptured!
Tessa