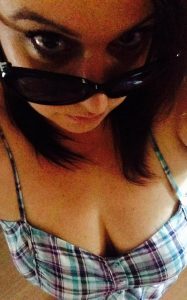 Hi all! I wanted to update in one big post rather than email everyone directly since I just simply don't have the energy. I've been sick on and off for sometime. A couple of weeks ago, I woke up feeling like crap and thought to myself…"Here we go again." To make a long story short, a little sickness turned into a stint in the hospital. I won't go into too much detail as it is just not sexy, but let's just say that I'm on the mend and shouldn't be having those little mysteries illnesses anymore!
I came back to a few messages that referenced a rumor that I was dead! I don't know how these things get around, but I promise me and my boobs are very much alive!
Here's some other updates to make you smile….I'm ready to record on my new equipment that my boys so generously donated for. All new sessions this month, with the exception of of 2 that were recorded already, will have a new sound. It has taken me hours and hours to master my new software as it is so advanced compared to my old program and I do hope the results are worth it to all of you! I'll be sending out gift certificates to all those that donated on an award level to use on the new sessions.
Tough Guy, the hands-free orgasm session, was a smashing success! I absolutely loved reading every email about the successes and even the almost there ones! To celebrate, I'll be putting out a sequel with a bondage theme!
I also wanted to give a little shout-out to my boys in chastity for hanging in there while I wasn't around for support and guidance. I'm so proud of you! I also received some amazing gifts in my absence and your personal thank you's are coming!
September is coming and this is the month of Tessa. My birthday is on the 29th and we are all going to celebrate together with some special events!!!! Details soon….
Love you all!
Tessa