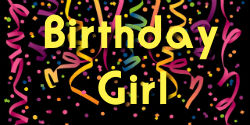 On September 29th, I'll be the birthday girl once again! Like every year, I'll be spreading the love with a gift for all of you! You'll want to check back tomorrow night! 
This year's birthday celebration is already off to an amazing start! I noticed that the 4 birthday wish gifts have been purchased off of my wishlist and I cannot wait to see who they are from! There have been so many lovely gifts that I can barely keep up. That's not a complaint! I feel so blessed to be surrounded by so many wonderful people that want to spread some birthday cheer! I'll be sending out personal thank yous after I find out who sent what.
This year I'm spending my birthday by the water and I'm going to get to fulfill one of my fantasies. I've always wanted to stay in a fantasy themed suite and have a brainwashing day and night. One lucky fella is going to be brought in and out of trance over and over again throughout the day and night. I'm bringing all my goodies…pendants, crystals, spirals, metronome, etc. and I'll be using every one of them. I'm such a sucker for cliche hypnosis props! I imagine that I'll be blissfully satisfied and exhausted afterward!
The suite is modeled after a sultan's harem room and it looks beautiful! I can hardly wait! I can already hear the champagne cork popping!
We'll be doing a little gambling at a nearby casino as well so wish me luck at the tables! 3 card poker, here I come!