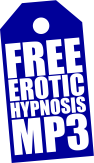 I've got a present for all of you as promised….a FREE erotic hypnosis MP3.
This is a free 16:55 minute audio for men or women designed to help you strip away societal expectations to get in touch with the primal sexual side that lies in all of us allowing for deeper sexual arousal and satisfaction.
Is there a catch to this free Erotic Hypnosis recording? Of course, you'll have to be a registered member of EroticHypnosis.org to request the file from me at this link.
I hope you all enjoy!