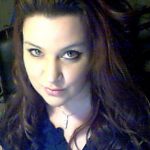 Hypnosis is definitely one of my prime passions. I have found it both healing and incredibly erotic. In the final clinical hours of my hypnotherapy certification, I take on many face-to-face sessions a week. This is my opportunity to be a teacher, healer, friend, and confidante. The power of hypnosis to change lives is not something I take lightly.
As an erotic hypnotist on Niteflirt and Talksugar, I get to explore the parts of my sensuality that come so natural. I've been a dominant personality since I was a little girl, although back then I think they called it bossy! The role of leader and guide has been put upon me and I have never hesitated to embrace it. I'm a bit of a perfectionist and control freak which is not often a good thing. When I am faced with the challenging personalities that I encounter in the erotic realm, I am forced to compromise those parts of me a bit and become more flexible. I welcome those situations…and remain thankful that they help me to grow.
I grew up in a female-dominated household where the woman's word was always the last word. This definitely influenced me growing up. At the time, I didn't feel that men were inferior to women. I just knew that women pulled the strings of the world and made things happen. I admired the females in my family and even admired the men who willingly submitted to them and recognized that female power. We are products of our environment so of course I grew up to be just like the women of my family. In relationships, I even tried to be that sweet "yes, sir" girl. I felt like a square peg in a round hole…you may get it in, but it will never fit comfortably. It was actually quite frustrating to not enjoy the role so many of my friends were playing. I was not that girl!
Then I met him….that confident, gorgeous alpha that turned out to be a lifestyle submissive enthralled by the thought of me keeping him in a constant state of tease and denial. At first, I thought I'd play along as I had always been up for most things sexually. It was like someone finally turned on the power to my sensuality. I finally felt alive…delving quite deep into the D/s lifestyle. There's a long story there, but best saved for another time.