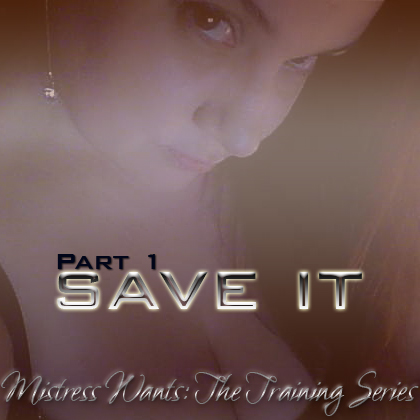 The "Mistress Wants" series is based on the intricacies of a loving D/s relationship. The installments are based on my personal philosophies and tastes regarding submissive men and an interest in them being healthy, communicative, and valued.
Part 1, Save It, trains the submissive male in the art of positive chastity and/or delayed orgasm and the motivations behind it. This recording is to help the submissive male to value his orgasm as both a gift and reward for his loving submission to his dominant partner. Stripped away are the expectations of a kinky return as a result of simply submitting. Learn to surrender for all the right reasons. The female role in this series is only defined as Mistress and can apply to any female dominant in your life. The trigger "Save It" can be used by any woman to remind you to hold off just a little longer until you have permission to orgasm.
Topics: Non-device Chastity, delayed orgasm, female dominant, trigger phrase, dominance and submission, healthy submission, tease and denial
When purchased from my erotic hypnosis store, the file comes with a FREE pre-trance relaxation exercise called "Barely Stroked"
This recording is promo priced at only $20.00 through April 3rd.
Layered with soft ambient music
Stereo Recording
24:49 minutes