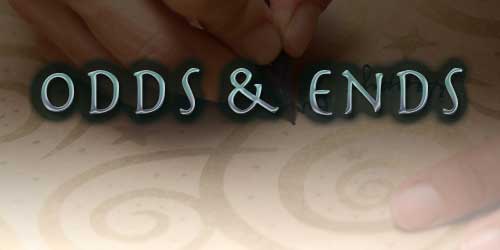 I keep waiting to blog because I want to have more to say on a subject before I post, but sometimes you just have to gather the odds and ends and try to make something cohesive out of the tidbits. Since I can't, here's a bullet list of what's going on. 
1. I finally fixed the photos page and have a little assortment up! I'm taking some new ones soon too! I've received some beautiful clothes from fans and I'm going to try my best to take pics in them in the coming months.
2. There are now three places to get all my latest files.
There is my preferred method of my official hypnosis MP3 Store at MP3sByTessa.com. I'm still waiting for Mastercard approval, but Visa Diner's, and JCB are welcome!
Niteflirt has added a goodies feature to our profiles so you can see all of my sessions at once. Just click on the goodies tab and you'll see them all!
I've also added all of my files to Sensual Mistress. They take almost every payment method out there! I'm unable to offer my free files there as free, so make sure you get them from my store.
3. I'm waiting on one more piece of equipment from my GoFundMe project so I can start learning how to use it and create some hypnotic awesomeness! I have several scripts saved for this equipment.
4. Good Boy's Club Members– I've made an important post there about some changes. Check it out if you haven't already.
5. MP3 Club members– If you have only Mastercard as a payment method, contact me personally and I will help you get your files at your discount.
6. I'm going to be changing hosts for Hypnotessa.com this week. There maybe some downtime for the site and email.
7. I've renewed my love of Twitter lately and I've been pretty active there. Make sure to Follow Me!
8. I'm loving all of the emails I'm receiving from those experiencing the effects of "Chastity Circuit." I know some are struggling (which excites me!) I'm going to be posting about that very soon.
9. I've decided to make files for Humiliation POV again. They let me know that I'm missed by the members and I'll admit, I've missed them too! There's one coming this weekend so get your membership now and get access to all my files there!
10. Mistress Carol and I have been hard at work on our dual hypnosis MP3 and the finish line is in site! We are both so busy that it has been so hard to line our schedules up, but we are finally getting there. All that is left to do is edit it! We're going to break your brains!
11. I'm really making an attempt at getting organized. Since my return, I'm swamped with emails, custom requests, and working on new files. I'm doing my best to get caught up on correspondence. I've spent the last 4 and half hours replying to emails. If you are waiting on a reply from me, let me know. I think I covered all of them, but I've had some bad email issues lately with my host so I know some have been lost or mistakenly identified as spam.
Well, I think that's it for now. Somehow I pulled a muscle in my shoulder while I was sleeping and woke up Sunday in writhing pain, so I've been laid up and all these tidbits have been piling up in my mind so I had to get them out. Does anyone want to give me a massage? 😉
Back to work now,
Tessa