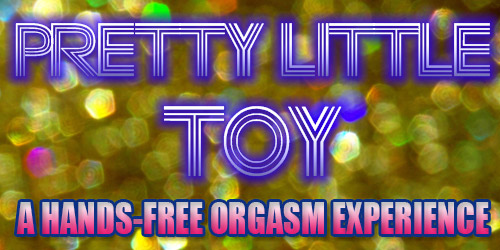 I finally heard back from Aneros and am now officially able to offer this session!
This session was created for someone that preferred a long progressive relaxation induction and wanted to be hypnotically led through the exercises at http://www.aneros.com/learning-center/instructions/ while gently being introduced to the pleasure of submitting to a dominant woman.With the massager already in place, you'll be led down into a deep state of hypnosis. You're body will respond all on its own as the pleasure created becomes effortlessly associated with obedience and submission.
You'll be led through several dry (internal) orgasms with a little bit of nipple play and the movement of the Aneros. Once your pleasure is built to maximum, a little bit of gentle tease & denial will make your body beg for ultimate release. Give in to the mantra of "Obedience is Pleasure" and be led to an earth shattering hands-on orgasm!
ANEROS has not reviewed, evaluated, nor endorsed the session "Pretty Little Toy"
One other note: The massager is in this MP3 is simply referred to as the Aneros.
More about Aneros massagers:
From their website https://www.aneros.com/benefits/the-super-o/
The Super-O is the ultimate pleasure a man can have.Super Orgasm, Super-O, or Dream Orgasm. "Super Orgasm" is a term coined by an Aneros super-expert for the unbelievable pleasurable sensations he experienced with the Aneros prostate stimulator. In a forum post a few years back he described the pleasure as such, and the name stuck and is now deeply ingrained into the Aneros vernacular. It was originally called the elusive "Dream Orgasm," but "Super-O" is the common term now.The "Super-O" is very personal and different for each individual, but the consensus is that it is actually a series of smaller, dry, full-body orgasms ("Mini-Os") which builds into a single or series of large full-body orgasms. Our customers say it is the most intense and beautiful pleasure they have ever experienced.Many men can achieve the "Super-O" on the first use of the Aneros prostate stimulator. For others, "the path to the Super-O" takes patience, relaxation, and practice — sometimes a matter of months of becoming more in tune with his body with the help of the Aneros prostate stimulator. The problem for some users is the more you concentrate and want to force the "Super-O" to happen, the more difficult it is to achieve. For many men, learning to totally give in to the sensations and not trying to control them is the path leading to the "Super-O."
If you aren't open to backdoor play, this definitely is not for you. If you have enjoyed prostate stimulation from a woman, it may be something new and wonderful to try as the massager itself is very slim.
Recording Quality: Stereo
Length in Minutes: 46:33
Background Music: Yes
Subliminal Layering: Yes
Post-Hypnotic Suggestions: Yes-for re-induction
Topics/Fetishes: Femdom control, nipple sensitivity, hands-free orgasm, aneros, prostate massage
$49.99