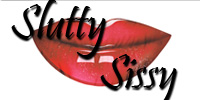 I've just made another MP3 recording for HumiliationPOV!
Description: This hypnotic adventure uses a classic progressive relaxation induction and staircase deepener to dress you up into a horny, slutty sissy! You get so excited seeing how girly you look that you cannot help but to get yourself off even among a group of laughing and teasing girls taunting you. This should be great for any sissy as it contains no forced-bi activities. This is a full-release MP3 (lucky you!)
32:01 minutes
FX: Layered with ambient music and intense feminine sound effects.
Topics/Fetishes: Feminization, lipstick, female humiliation, sissy masturbation.
The MP3 is exclusive to HumiliationPOV and can only be obtained if you are a member of the site. This is fantastic news for you as the membership price is exactly what I would charge for this recording normally, but in addition you get access to TONS of videos, stories, audios, photos, and LIVE webcams of nothing but REAL girls teasing and humiliating you. Their forum is very active so you can have very personal humiliating attention round the clock!
Check it out and join today! I'll be posting my most humiliating recordings there and you will get them all for free and so much more with membership!