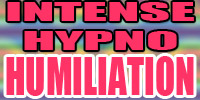 I've got great news for all of my humiliation addicts! I was recently invited by the ballbusting Vittoria of VittoriaErotica to join her at HumiliationPOV, where hot girls dish out severe humiliation and degradation to all the losers, sissies, and teeny weenies!
I've posted a brand new humiliating, financial domination recording entitled "Small Dick Paypig" on the site. It is a delicious 20 minute erotic hypnosis recording that takes you deep down into trance to discover what a truly pathetic loser you are and just how small your teeny tiny dick is! I use my control over you to turn you into a horny paypig that can't make that little nub come without pleasing me first.
The MP3 is exclusive to HumiliationPOV and can only be obtained if you are a member of the site. This is fantastic news for you as the membership price is exactly what I would charge for this recording normally, but in addition you get access to TONS of videos, stories, audios, photos, and LIVE webcams of nothing but REAL girls teasing and humiliating you. Their forum is very active so you can have very personal humiliating attention round the clock!
Check it out and join today! I'll be posting my most humiliating recordings there and you will get them all for free and so much more with membership!