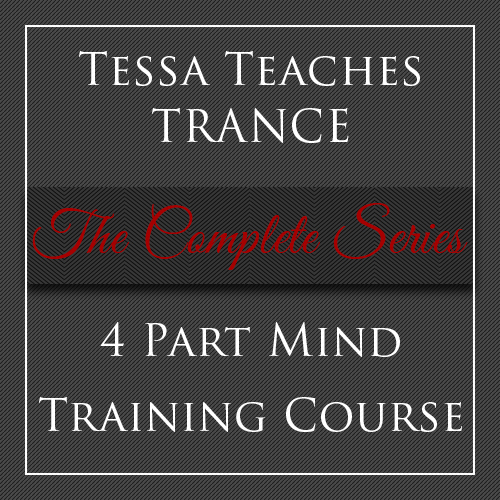 This is the complete 4 part series trance training series called "Tessa Teaches Trance."
You'll receive 4 separate sessions that when combined can send you deep into hypnosis for well over 2 hours!
Included are:
Trust Fall This session sets the tone, giving action to those vague hypnotic terms and helps you to give them meaning to help you achieve trance.
Under The Surface This session builds upon the first, adding depth to your hypnosis experiences and helping you to become deeply hypnotized
Sensory Perception This session lays the framework to help you feel, taste, and touch while in trance
Trigger Happy This session helps train your mind to respond to post-hypnotic suggestion and I'll implant a very harmless trigger just to show you how far you've come!
Note: These are NOT devotional files and will not interfere with an existing or future hypnotic relationship with another hypnotist. 
These files are pure erotic hypnosis. While not sexual, they reach back to the fetish's roots of when just being hypnotized by a dominant woman was just a little bit more than a submissive boy could handle and that makes it incredibly erotic.
I've created this series for those that still struggle to achieve deep trance and are willing to do the work to get there. We'll be adding to your skillset as hypnotic subject with each session delving into depth, visualization, sensory feel, and triggers!
It's my personal mission to get all of you trancing so feel free to message me with any questions or struggles you may have.
What if you already trance well? I suppose you'll just have to listen and see if you've been going as deep as you could have been all this time.
| | |
| --- | --- |
| Release Date | 1/1/2020 |
| Recording Quality | Stereo |
| Length in Minutes | 140:51 |
| Background Music | Yes |
| Subliminal Layering | No |
| Post-Hypnotic Suggestions | Yes |
| Topics/Fetishes | femdom, submissive training, conditioning, deep trance, depth, trance training, arousal, sensations, triggers |
Price: $49.99